ALVA YACHTS further expand their dealer network and antother three solar catarmarans on the way
•Alva Yachts Med is based in Ibiza and will open a second office in Mallorca. It will be the Master Dealer of Alva Yachts for Southern Europe.
•The dealer has already purchased two Alva electric catamarans, they will be delivered in 2022.
•The first unit of Ocean Eco 90 Explorer has been sold to an experienced UK boater.
A new dealership for Southern Europe Alva Yachts, German manufacturer of 100% electric boats and catamarans, and builder of floating villas, has just announced an addition in their dealer network. The newly founded Alva Yachts Med (AY_MED) is a spin off from AMO Yachts and ABS Yachts Sales S.L. in Ibiza.
Beside their headquarters in Marina Botafoch, the main port of Ibiza, they will open a large office in Porto Portals in Mallorca beginning next year.
Founded in 1995, AMO yachts is a prestigious yacht broker specialized in motor yachts. The sales team operates the national and international markets.The main office in the heart of Marina Botafoch offers exceptional access to the port moorings, facilities and services.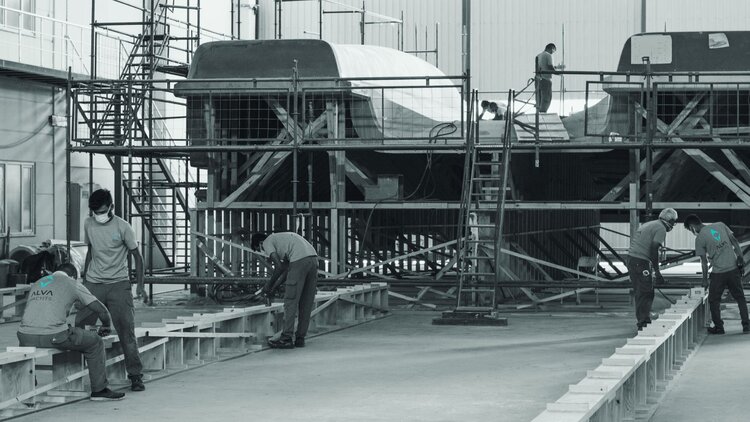 Production Image of the three new Ocean Eco 60s
As well as yacht sales the company offers a wide variety of services related to Ship management: yacht registration, leasing and charter, maintenance crew, events organization and many more. AY_MED have purchased two Alva Yachts which will be available for sea trials and charter from 2022.
The new dealership is the latest addition to Alva's Master dealer network which consist of five main dealers for the following regions: Southern Europe, Northern Europe, Americas, Asia -Pacific, Russia / CIS.
Sale of the top-of-the-range Ocean Eco 90 Explorer
The company has also announced the finalization of a sale for the largest model currently in the range, the Ocean Eco 90 Explorer. The EX version is an upgrade of the Ocean Eco 90, with enclosed flybridge, carbon & stainless steel reinforcement for the hull structure and many other modifications.
OE 90 EX also features an additional hot water heater and tropical air conditioning.The customer of hull #1 is an experienced UK businessman who will use the yacht with his family for long term cruising.
The yacht comes with an owner's cabin on the upper deck, 2x 350 kW hybrid-electric propulsion system, and an electric tender which will be charged via solar panels. Delivery of the first Ocean Eco 90 Explorer is due in the first quarter of 2023.